Gate Repair
Back To Our Services
Safety and privacy are very important especially when you're at home. Your home is supposed to be your castle, your domain. It's where you are safe from prying eyes. It's where you are protected from those who may not have your best interest in mind. To help reinforce safety and protection, you can opt to have a gate erected. Though built very tough, it still needs some care and maintenance to make it last. Read on and learn about what the common issues are with gates and how to have them professionally solved.
The Problem with Misaligned Doors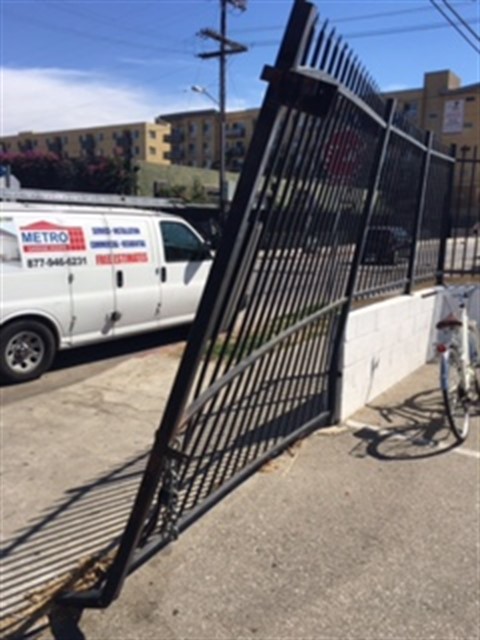 The protection that a gate provides you hinges on its ability to close, thereby creating a formidable barrier that serves to separate your home from the outside world. Without a proper alignment, the gate doors of a swinging system wouldn't meet in the middle or the sliding gate door may not function at all. We have the perfect gate repair solution for this problem. We'll fix and weld hinges, reshape gate doors or adjust their placement in order to achieve a proper alignment that allows proper closing of the doors.
Broken Sliding Gate Rollers
Sliding gates act differently than swinging ones. Instead of travelling in an arc, they travel on a straight line. This is facilitated with the use of rollers or wheels. These carry a lot of the weight of the door on them, so if they're broken, closing a sliding door would be very hard to do. Our gate repair services have the right solution for this issue. We can either repair your existing rollers, if they can still be salvaged, or we can replace them with newer and more efficient ones.
Gate Repair Solutions for Intercom Issues
The intercom plays a crucial role in the security that gates provide. With an intercom and access panel system in place, you are able to screen just who is allowed entry into your property. When this system malfunctions, you're going to lose that precise control of your gates.
If your intercom system fails you, contact us at Garage Door Repair Monroe and we'll have it working again in no time.